Slovakia and NATO: security through cooperation
International Conference, Prešov, 6 - 7 April 2001
Alexander Duleba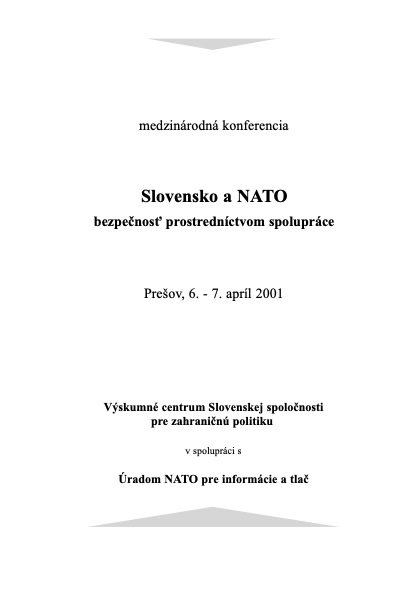 The main objective of the conference "Slovakia and NATO: Security through Cooperation", organised by the Slovak Society for Foreign Policy in cooperation with the NATO Information and Press Office in Prešov on 6-7 June 2011, was to discuss the issue of security through cooperation between Slovakia and NATO. The aim of the conference, held in Prešov on 7 and 7 April 2001, was to contribute to the ongoing security debate in the Slovak Republic and in particular to promote its regional dimension.
Most of the participants, apart from the lecturers, mainly the panel leaders and those who are actively involved in the issue as experts or publicists (Grigorij Mesezhnikov, President of the Institute for Public Affairs in Bratislava, Attila Szép, Director of the Slovak Institute of International Studies in Bratislava, Mário Nicolini, President of the Euro-Atlantic Centre in Banská Bystrica, Karel Hirman, independent publicist, and especially the representatives of the Slovak Armed Forces), joined in the discussion of the various topics.
Since the views of the speakers are further presented in the papers published in this proceedings, we will focus on the main points or statements and insights of the participants of the discussion according to the main topics. These themes do not necessarily overlap with the titles of the panels or individual papers within the panels. The summary of the discussion also reproduces (highlighted in the text) the terminology of the participants, which may sometimes appear non-standard. However, this is also the specificity of the current Slovak debate on defence, security and transatlantic integration issues.
Editors: Alexander Duleba, Ivo Samson
The publication is available in Slovak language only.