Ukraine and Slovakia: the search for common interests
International Conference, Bratislava, 17 - 20 May 2001
Alexander Duleba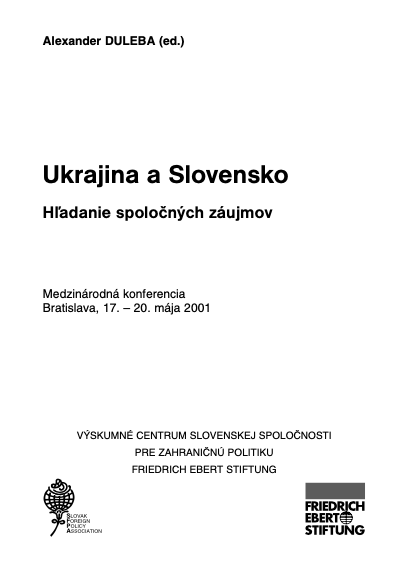 The aim of the conference Ukraine and Slovakia: the search for common interests, the proceedings of which are contained in these proceedings, was to map the key issues on the current agenda of bilateral Slovak-Ukrainian relations. In compiling the conference programme, we deliberately chose topics that reflected the different approaches and assessments of the two sides. The aim of the conference was to name the problems and try to find common interests in their solution. We firmly believe that the conference was inspiring for experts and officials from both countries and that it will contribute to the improvement of Slovak-Ukrainian relations.
Views from Slovakia and Ukraine were presented at the conference by top experts from both countries.
The conference was the fourth event organised by the Research Centre of the Slovak Society for Foreign Policy in cooperation with the Friedrich Ebert Stiftung Representations in the Slovak Republic and Ukraine with the aim of promoting bilateral Slovak-Ukrainian dialogue and the development of mutual relations.
The publication is available in Slovak language only.